We are happy to present you a great variety of wedding wishes. If you have been invited to a wedding of your friends or relatives, you should prepare the best wedding congratulations. Using our wedding day quotes, your greeting will sound creative and very sentimental. This is a very important moment for a couple who are going to share the life together. And, of course, it is an honor for you to be invited to such event.
Wedding wishes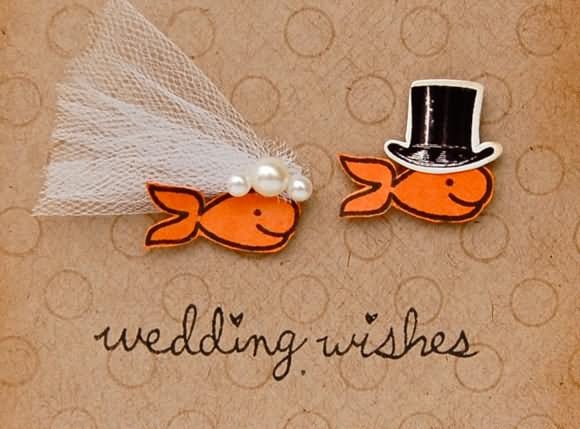 Family life isn't easy, so be ready to protect your family happiness. It's worth it. Congratulations on your wedding!
Wedding wishes for my dear friends. I hope your life together will be filled with joy, happiness and lots of love!
May your marriage be filled with all the right ingredients: a heap of love, a dash of humor, a touch of romance, and a spoonful of understanding. May your joy last forever. Congratulations!
Congrats on your marriage. Just remember, happiness is a very over-rated feeling according to this author.
If the right words are difficult to come by, here are some beautiful wedding messages that can brighten up your loved one's heart and face!
Being deeply loved by someone gives you strength, while loving someone deeply gives you courage. Congratulations on your marriage!
Dear friend, as you are starting a new innings of your life, my good wishes are always with you. Wishing you a happy married life!
Best Wishes to the Bride
Is your best friend getting married soon? You should use these wonderful best wishes to the bride to wish your friend a happy family life.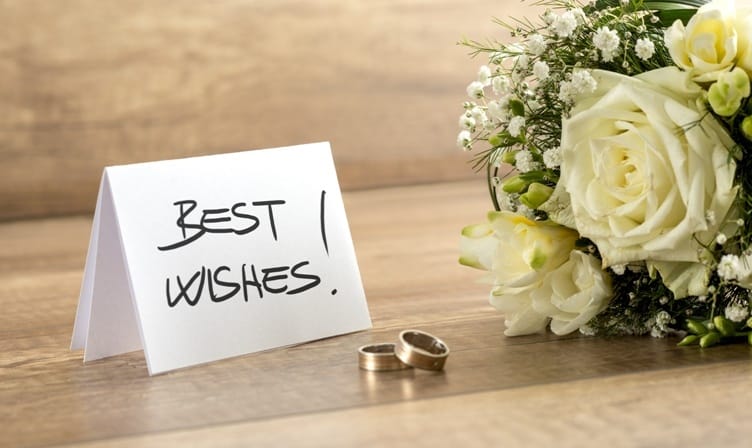 I wish you a wonderful wedding ceremony with beautiful cherishing moments of the ceremony. As the ceremony binds you both together for life, I pray to God for your bright future and well being always.
When two are knotted as one, both families and friends share in oneness of their marital union; may this marriage be a bridge to usher happiness, peace and prosperity.
Once in a while, we witness a great love story. Yours is one of the greatest and most inspiring I have ever been witness to. Congratulations and best wishes for a happy life together.
You make the most amazing couple. Thank you for sharing your lovely wedding day.
Nothing can be better than starting your own family. Appreciate and honour it your whole life. Congratulations on the wedding!
May you always remember the love shared on this special day. Wishing you a lifetime of love!
Through the storms of life, may your love for one another be steadfast and strong. Wishing you joy and happiness on your wedding day.
Wedding Blessing Quotes
We have a wonderful collection of wedding blessing quotes for parents. When your children are getting married, this is a very sentimental moment. These quotes will help you to express all your feelings.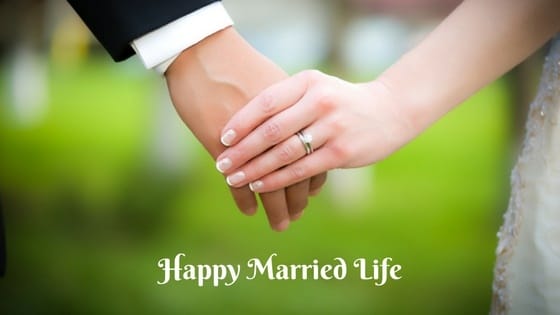 Marriage is about communication and compromise. She'll be doing the communication and you'll be doing the compromise.
Good luck with today's ceremony and all the very best for the future. May the honeymoon never end!
Congratulations to you both and much happiness on your wedding day. May your love shine warmly forever.
As you tie the knot with the love of your life today, wishing you years of togetherness and companionship.
With warm congratulations to a very special pair. May you always find in each other the love, laughter and happiness that only partners in life share!
Congratulations! May you find favour in the sight of our God and may He bless your marriage with boundless joy, fruitfulness and favour.
I hope you enjoy all of the pleasures that togetherness brings in life. May your life hereafter be filled with happiness and delights. Good luck on the days to come.
Wedding Well Wishes Card Ideas
Have your friends invited you to their wedding? You should prepare the best wedding well wishes to write in a congratulation card. Don't worry, we have your back. Take a pen and get ready to write nice wishes which you find on this website.
May you have more days of love than there are bubbles in your champagne.
The time flies and things change, but I wish that your love for each other would stay unchangeable. Congratulations!
Weddings pass in just a day, leaving happy memories which last a lifetime. Enjoy yourselves!
Congratulations on finding each other! Your greatest adventure has just begun.
A person is incomplete without a spouse, but you're finished with one. Happy married life!
Our prayer for you: That you never go to bed mad and enjoy each other every day of your lives.
Cute Wedding Messages for Couple
Congratulate your friends with these beautiful wedding messages for couple. They will be happy to receive it from you!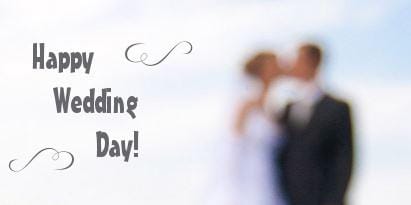 There is no more lovely, friendly and charming relationship, communion or company that a good marriage. Congratulations!
You two are one of the best couples I have ever seen, may God grant you a happy married life!
Your wedding is like bloom of a flower — beautiful and full of hope; may your love and care for one another know no bound. Happy Wedlock
To my dear friends who show that love can be true and forever. I hope your life together will be filled with happiness, joy and lots of love!
You've just got married, but I'm already looking forward to seeing your pretty kids. Congratulations, dear newly weds!
Such great news to hear of your wedding — It couldn't happen to a nicer couple! Have a great wedding day and may your marriage be filled with wonderfully happy times.
Happy Married Life Wishes
Make this day memorable for yourself, the couple and all the guests with our happy married life wishes.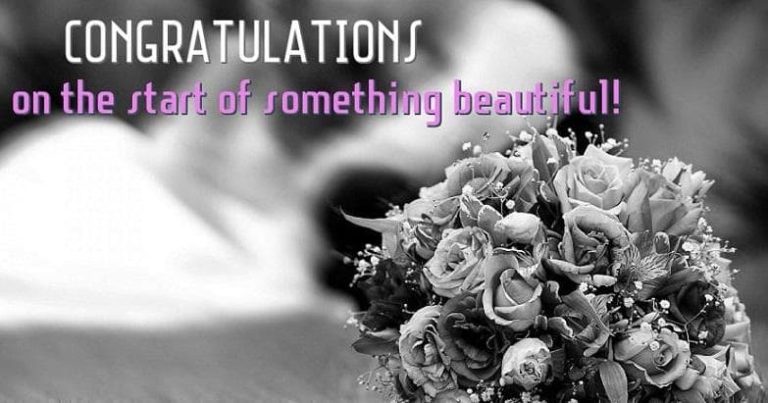 Congratulations to you both on your very special day! May your wedding be filled with special memories you can treasure forever!
They say opposites attract – If that's the case this marriage could last for a very long time. Best wedding wishes!
I wish that your joining together brings you even more joy than you ever imagined! Best wishes on becoming husband and wife!
May your marriage bring you all the exquisite excitements a marriage should bring, and may life grant you also patience, tolerance, and understanding. Congratulations!
On this special day of your wedding wishing you happiness and love like the unending circle of your wedding ring.
Blessed is the man who finds a wife. May the joy of your new home be filled with laughter, smiles, kisses, hugs, respect, understanding and faithfulness. Happy Wedlock!
Wedding Messages for Friend
Using our wedding messages for friend you will make the perfect congratulation.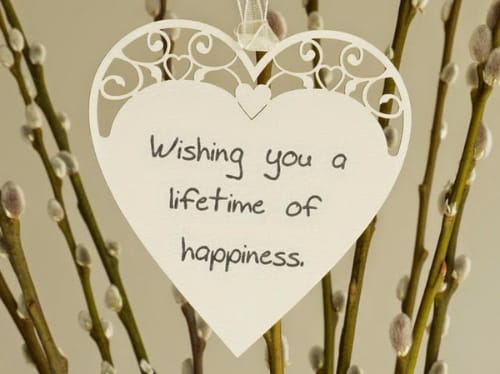 There is nothing more inspiring in this world than to watch two people find love in each other. We are all so happy for you. Thank you for sharing this special day with us.
I believe that world exists only due to love and loving people. And you're the most beautiful example of it. Congratulations on the wedding!
With warm congratulations to a very special pair. May you always find in each other the love, laughter and happiness that only partners in life share!
Congratulations on your wedding day and best wishes for a happy life together!
Marriage is the equivalent of signing a marriage contract which does not give you the option of renewing it every year. Congratulations to a perfect pair.
I cannot decide what is better — you two together or sliced bread! My best wishes on your wedding day and for your future life!
This momentous occasion marks the start of your life together. May the journey be a happy one filled with peace and harmony, joy and laughter, and romance and passion. May your enduring love be the crown jewel that ties together all the rest. Best wishes!
Stunning Wedding Sentiments Every Bride Will Remember
Any wedding is a very emotional event which is overloaded with positive and happy sentiments. Using these wedding sentiments you will have to problem in expressing your feelings in a beautiful way.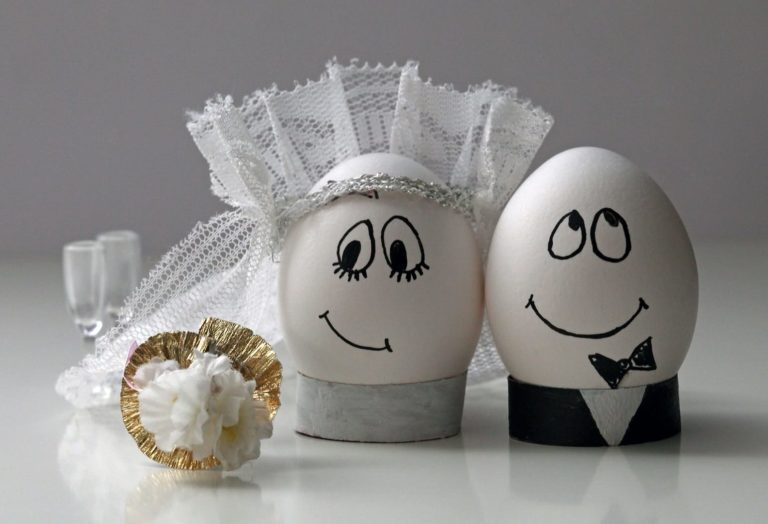 Marriage is not a bed of roses; always remember that you are two people sharing one soul and may your love and faithfulness for one another guide all your decisions.
Heartfelt congratulations on your marriage. May your bond last forever, and should it ever change, may it change to a firmer and better one.
On this special day, I wish that nothing could go wrong in your admirable couple. Good luck in marriage!
You two are so unique and beautiful. Just like the love you share! So happy to celebrate your wedding together with you!
Seeing you two make promises and step forward into the future is so inspiring and wonderful.
Getting married is like a class on Shakespeare. You get a little comedy, some romance and a lot of tragedy. Congratulations!
In hope that your life will be filled with peace and joy, we gather together for you and no others. Congratulations!
Short Wedding Quotes
Be honest, would you like to be that guy who's telling super long toasts at the wedding celebration so that everybody secretly starts hating him? Nobody would. You can use these short wedding quotes. The couple and all the guests will enjoy it.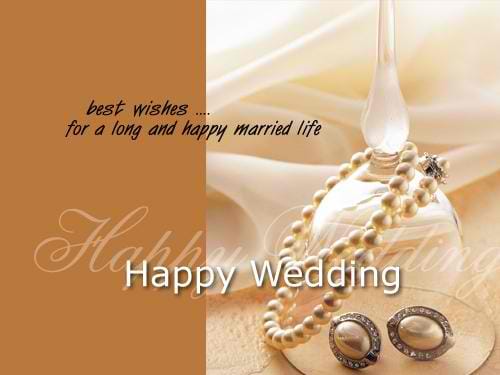 We're so honored to be giving weddings readings at your ceremony. Reading the passage in practice already has me so excited for you two.
Wishing you joy from this day forward; may troubles fall aside and fortune become your friend — Congratulations on your wedding!
Love knows no barriers. There is neither mountain too high nor ocean too deep when it comes to getting together with the one you love. Your journey of love is truly inspiring. I wish you great fortune and true happiness as you build a life together.
You've made me believe in true love. And I hope my belief will be unwavering forever, because it seems like you'll stay together till the end. Congratulations!
You are a wonderful couple, perfect for each other. Praying your years together are full of love, joy and blessings.
Wishing you joy, love and happiness on your wedding day as you begin your new life together.
I am glad to be a part of your wedding day, and looking forward to seeing what comes from you two.
Wedding Images