One of the most important occasions in a child's life is his or her first birthday. Even though they might not remember the event, it means a lot to their parents and the entire family. If your 1st birthday wishes are written with sweet and lovely messages to reveal your affection for the toddler, the card might also be preserved for the child to see when he/ she knows how to read. Here are some of the cutest first birthday quotes that will make your card be saved for later reading.
Long 1st Birthday Wishes
Never despise the potential of a one-year-old. From dirty diapers to constant squeals, they make everyone submit to their innocent demands. Even though you are just a toddler and do not care about what is happening now, we swear to celebrate the flavor of your fist birthday cake with flair and pomp. Happy first birthday little angel.
We love you not just because you have finally got a whole digit number as your age, but because you are simply one in a million. We crowd over you with love and warmth not because you are sweet, but because just holding you is a memorable treat. One thing we know for sure is that whatever you do in life, you will not just go far, but you will go beyond the stars! Happy 1 st birthday!
Happy 1st Birthday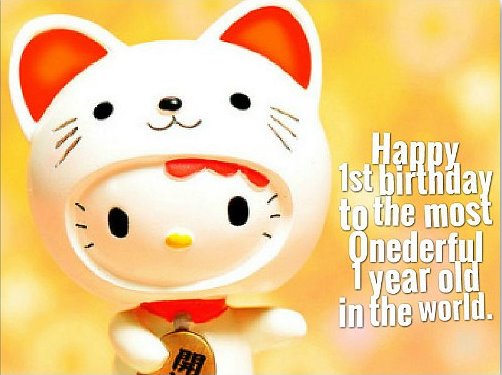 The way in which you are eager to crawl even though you are just one year old foreshadows how you are growing to become a top achiever. Have all the fun you can on your 1 st birthday because people won't care much when you eventually hit two next year. A movie called pray, eat, poop and sleep should be made to represent your life. Happy first birthday!
Congratulations to you and your parents for tolerating each other for one complete year. Two more decades before you part ways. Remember, whether you turn one, sixteen or twenty, you will always be your parent's reigning king/queen. You are blessed to have such adoring parents as your dad and mom. Happy first birthday loved one!
First Birthday Messages

Happy First Birthday
In only twelve more years, you will become a rebellious teenager who will not like being given hugs and kisses. Until then, let me cuddle you to my heart's content and wish you a happy 1st birthday.
Happy 1st birthday! Remember that there's more to life than birthday cake, balloons and presents. There's also ice cream.
To the dear Birthday Baby: When you came into this world you made everyone around you happier. We all gratefully look forward to another year of joy as we watch you grow.
You are the cutest baby in town because you look adorable even when you frown. Happy birthday sweetie pie.[
You have a natural ability to make people smile and laugh. You could probably do stand up if you could keep your balance better.
You're not just one year old. You are 12 months old. That makes you sound a lot older.
Niece First Birthday Message
If you're looking for the right words to express your love, gratitude and affection for the little one's first milestone for then you'd be pleased to know that a birthday card bearing your niece first birthday message is the place to start.
No more fumbling with your pen and paper looking for the correct words for the little one or maybe touch the heart of their parents and guests in the process.
First birthday Quotes
One year ago you came into our life and brought with you so much sunshine and joy! Happy birthday, little darling, let me give you a huge juicy hug!
Happy birthday! You will probably hate all the hugs and kisses today but how can we resist such an adorable kid?
I can't believe how tall you have grown already. You are growing up way too fast. Happy Birthday, my little one.
We expect you to come to the first birthday of our little darling as we want to celebrate it with people who care for him.
We are praying that your life continues to be a blessing to your family and that your family will continue to be a blessing to you. With lots of love, Happy 1st birthday!
Birthday Message for Son 1 Year Old
Nothing brings more joy that the love of a son. With more than 200 appropriate and heart melting quotes at your disposal, you have the luxury of choosing a suitable 1st birthday message for little boy. It should effectively express the affection that's burning in your heart that's been waiting to be set free.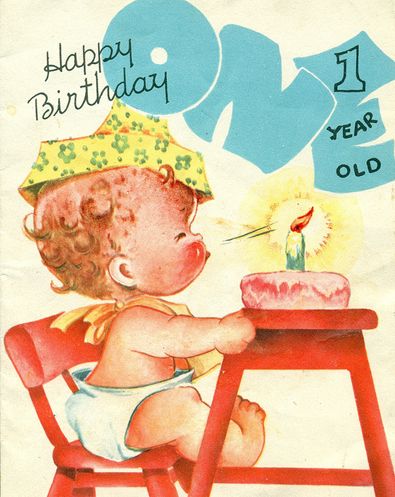 With your unlimited Cuteness, you have the Power to make Anyone do whatever you want. Happy First Birthday to the most Powerful Person in the Family right Now.
Let's toast to a year of sleepless nights an immeasurable joy! David is turning one!
Watching you grow day by day is by itself such a pretty sight. I'm sure you'll grow up into a wonderful person just like your parents. Happy 1st Birthday, my child
Never underestimate the power that one year olds possess. From constant squeals to dirty nappies, they make everyone dance on their tiny fingers. Happy birthday.
This is just the first of many "happy birthdays" for you. Have a deliciously fun 1st birthday, little cutie!
First Birthday Girl Quotes
There's something beautiful in every little girl that sets her parents hearts ablaze. Birthdays are a special moment where everyone comes together for the common purpose of celebrating and expressing their affection to the little girl on her first race in life. If done right, the quote will be louder than actual words and able to express your love in every sense of the word.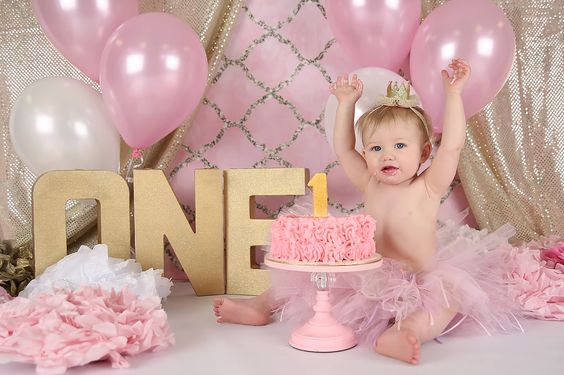 I am so grateful each day for you. You are certainly one of God's greatest gifts. I pray that the coming year brings you countless and abundant blessings. Happy Birthday.
Now we know why everyone wants to hold you in their arms. You know how to use your innocent charms. Have an awesome first birthday little one.
If you are feeling a little old today, just think of yourself as a newborn baby who happens to have 12 months of experience
First birthday is special, because it's the only time when you can eat your birthday cake with your hands, face or feet! Happy bday!
It has only been a year and you have already grown up so much!! Happy birthday little one, enjoy your special day!
Pink lips, bright eyes and beautiful hair; you already look like a doll! My pretty one, you are going to grow up into a star. Happy 1st Birthday!
First Birthday Message for Nephew
The bond between a nephew and an aunt/uncle is unbreakable. You should aim at still having an impact years later when your nephew is able to read and understand what was in your heart on that special day. This is a grand opportunity for you to pour your heart in a sincere few words.

Happy first birthday
You are growing up right before my very eyes. I can't believe it. I'm just happy that you are still small enough for me to hold in my arms.
Enjoy your simple life as a one year old while it lasts. It only gets more difficult and complicated from here.
I wish that you are really enjoying every bit of your first birthday, your first cake and your very first candle. We love you. Happy 1st birthday little one.
Are you sure that you haven't learnt how to write yet? Because you carved your name all over my heart since the very day you were born. Happy first birthday.
My little darling, may every year of your life be as happy-go-lucky as your first one. Happy 1st birthday!
First Birthday Greetings for Daughter
If you are looking for something real and out of the ordinary for your little girl, then you should know that the cliche and outdated birthday cards in your local stores will not work. Your first birthday greetings for daughter is an esteemed opportunity to look back at all the blessings and happiness that the child has brought into your life and express your gratitude in sincerity.
This does not call for heavy words and long sentences, a paragraph or two might effectively summarize all the sweet words in your heart and mind if done the correct way.

On your first birthday we want to celebrate the miracle of your birth and new life by stuffing our faces in front of you. Yum! Happy 1st Birthday!
Happy birthday to a one year old cute and sweet, may you grow up to keep the world at your feet.
One of the best things about you at this age is that you have a great sense of humor. You'll laugh at anything silly that I do no matter how many times I do it.
The warmest birthday greetings to my cute little princess! May this care-free happiness and joy of your first birthday continue for long long years to come!
Happy birthday baby girl. May all the years to come, offer you as much happiness and pride as you have been offering us since the day you came into our lives.
Happy 1st Birthday Images